Orifice Flange helps to measure the flow of liquids and gases using orifice meters located on the outside diameter of the flanges. The main purpose of the orifice flange identifies the flow rate of either liquid or gas in the pipeline system. It comes with either raised faces or RTJ facings. Each orifce Flange come in contact with two pipes taps for measuring the pressure drop of the flow through an orifice plate.
The range of orifice flange covers all standard materials, size, grades and specification. JF Engineering is the best organization of providing the best qualitative product at a reasonable rate. Orifice Flanges are available in ANSI classes 300, 600, 900, 1500 and 2500 in varieties of materials such as stainless steel, carbon steel, alloy steel, monel and Inconel.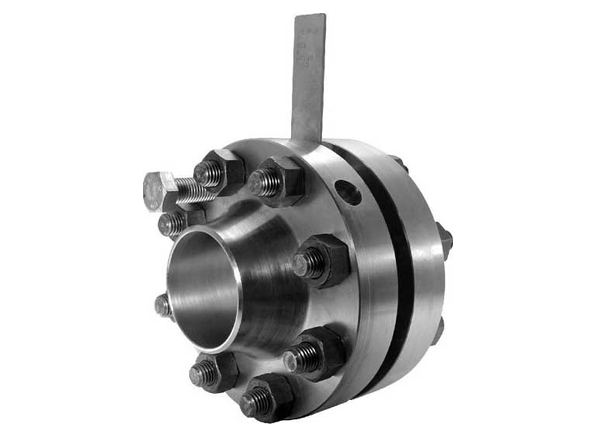 Get Quote's
JF Engineering Products LLP is Manufacturer, Stockists & Supplier of premium quality range of Orifice Flanges, Stainless Steel Flanges & Other Stainless Steel Pipe fittings that are manufactured under the expert guidance of our diligent workforce.

We are highly experienced company in Orifice Flanges & other pipe fittings. our Orifice Flanges & Other Fitting products are manufactured using quality material and go through a rigorous quality check at all stages of production to ensure quality.

Various steel products such as Angles, Channels, Beams, Billets, Blooms, Round Bars, Square Bars, Rectangular Bars, Flat Bars, Forged Bars, Rolled Bars, Concast Bars, Pipe Fittings, Elbow, Tee, Reducer, Cross, Stub End, End Caps, Forged Stampings, Pipes, Tube, Tubing, Fasteners, Bolts, Nuts, Washers, Screws, Studs, Plates, Sheets, Coil, etc.
Specification -
ASME B16.36 Orifice Flange
Size:
1/2"NB TO 24"NB IN
Class:
150 LBS, 300 LBS, 600 LBS, 900 LBS, 1500 LBS, 2500 LBS DIN Standard ND-6,10, 16, 25, 40 Etc.
Materials:
Monel :
Grade: Monel 400, Monel K500, Monel R-405
Nickel :
Grade: Nickel 200, Nickel 201
Inconel :
Grade: Inconel 600, Inconel 601, Inconel 625, Inconel 718
Incoloy :
Grade: Incoloy 800, Inconel 800H, 800HT
Hastalloy :
Grade: Hastalloy B2, Hastalloy B3, Hastalloy C22, Hastalloy C276, Hastalloy X
Titanium :
Grade: Gr1, Gr2, Gr3, Gr5, Gr7, Gr11
Stainless Steel :
Grade: ASTM A182 F202, F304/304L/304H, F316/316L, F316H, F316TI, F310, F321, F904L
Carbon Steel :
Grade: ASTM A105/A105N, A350 LF1, LF2 CL1/CL2, LF3 CL1/CL2, A694 F42, F46, F48, F50, F52, F56, F60, F65, F70, A516.60, 65, 70 (Spectacle Blind Flange, Spacer Ring/Spade Flange), Steel RST37.2, C22.8
Duplex Steel:
Grade: ASTM / ASME A/SA 182 UNS F44, F45, F51, F53, F55, F60, F61
Alloy Steel:
Grade : ASTM A182 F1, F5, F9, F11, F22, F91

Value Added Service:
CNC Machine, Customized Flanges
Coating/Surface Treatment:
Anti-rust Paint, Oil Black Paint, Yellow Transparent, Zinc Plated, Cold and Hot Dip Galvanized
Dimension -
ASME B16.36 Orifice Flanges RF
Dimension -
ASME B16.36 Orifice Flanges RTJ
Marking and Packing
Products are packaged to ensure that there is no damage during transit. In case of exports, standard export packaging is done in wooden cases. All flanges are marked with Grade, Lot No, Size, Degree and our trade mark. On special requests we can also, make custom marking on our products.
Quality Assurance
At JF Engineering Products LLP, all fittings and flanges are subject to strict inspection at each stage of the production process, from starting material purchasing to product dispatch. They are visually examined for conformity to ASTM, ASME, MSS, DIN, EN, and JIS codes and standards. Upon request, official certified Inspection Agencies can be called in to witness the material reports, dimensions and quality conformity of products.
Test Certificates
Manufacturer Test Certificate as per EN 10204 / 3.1B, Raw Materials Certificate, 100% Radiography Test Report, Third Party Inspection Report
Shipping Policy
Delivery time and delivery dates are based on the "type and quantity" of steel ordered. Our sales team will provide a delivery schedule when quoting to you. On rare occasions the delivery schedule may change so please check with our sales department when placing any orders.
Orders will be sent out within 2-3 business days, and may take up to 5-10 business days in transit. If Flange is out of stock, orders may take up to 2-4 weeks to ship. JF Engineering Products LLP will notify buyer if this situation occurs..
Uses & Application
JF Engineering Products LLP take immensure pleasure in introducing itself as one of the leading Manufacturer & Exporter of high quality ASME B16.5 Orifice Flange to meet the customer ultimate requirements in the fields of:
Chemical
Oil Mills
Petrochemical
Mining
Refineries
Construction
Fertilizers
Shipbuilding
Power Plant
Steel Plant
Nuclear Power
Offshore
Oil & Gas
Defence
Paper
Ports
Breweries
Railway
Cement
Engineering Co.
Sugar &
Government Org. etc.