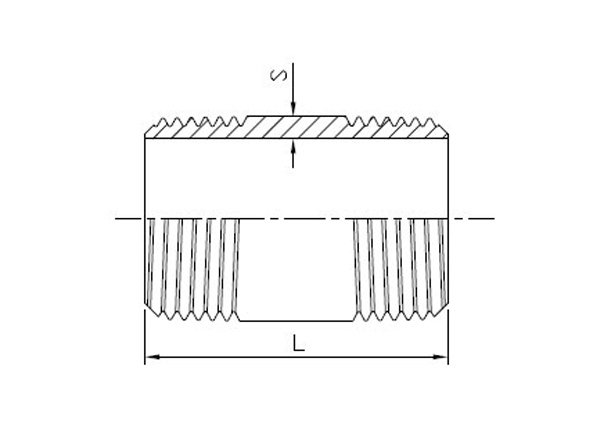 Get Quote's
Get Quote's
JF Engineering Ltd is highly acclaimed Manufacturer & Exporter presents best offer ever on ANSI/ASME B16.9 Butt welding Barrel Nipple of different shapes and size with different specifications as per the international standard. We have a wide selection of ANSI/ASME B16.9 Buttweld Barrel Nipple that has amazing features such as durability, precision and accuracy. We have a team of experienced people who contribute too much to provide the premium quality product at an affordable rate. These pipe nipples are one of the most impprtant need in the process of pipelining in every building. These nipples have got a very good finishing externally as well as internally. We put our best to satisfy each client and keep the best name in the leading companies.
Some of the features are
Long Service life
Easy to install
Corrosion free
Extra tensile materials used
Specification -
ASME B16.9 Seamless Welding Fittings
Buttweld Barrel Nipple
Standards:
NSI – B 16.9 ASTM A403 – ASME SA403 – 'Standard Specification for Wrought Austenitic Stainless Steel Piping Fittings' API 590-605 ASME B16.9 – 'Factory-Made Wrought Buttwelding Fittings" ASME B16.25 – 'Buttwelding Ends' ASME B16.28 – 'Wrought Steel Buttwelding Short Radius Elbows and Returns' MSS SP-43 – 'Wrought and Fabricated Butt-Welding Fittings for Low Pressure, Corrosion Resistant Applications'
Schedule:
Schedule 5S, 10S, 20S, S10, S20, S30, STD, 40S, S40, S60, XS, 80S, S80, S100, S120, S140, S160, XXS and etc.
Sizes:
1/2"NB TO 48"NB IN
Materials:
Monel :
Grade: Monel 400, Monel K500, Monel R-405
Nickel :
Grade: Nickel 200, Nickel 201
Inconel :
Grade: Inconel 600, Inconel 601, Inconel 625, Inconel 718
Incoloy :
Grade: Incoloy 800, Inconel 800H, 800HT
Hastalloy :
Grade: Hastalloy B2, Hastalloy B3, Hastalloy C22, Hastalloy c276, Hastalloy X
Titanium :
Grade: Gr1, Gr2, Gr3, Gr5, Gr7, Gr11
Stainless Steel :
Grade: ASME / ASTM SA / A403 SA / A 774 WP-S, WP-W, WP-WX, 304, 304L, 316, 316L, 304/304L, 304H, 316H, 316/316L, 321, 330, 347, 309/S, 310/S, 317/L, 333, 410/S, DIN 1.4301, DIN1.4306, DIN 1.4401, DIN 1.4404
Alloy Steel:
Grade: ASTM / ASME A/SA 234 Gr. WP 1, WP 5, WP 9, WP 11, WP 12, WP 22, WP 91
Carbon Steel :
Grade: ASTM A 234 WPB , WPBW, WPHY 42, WPHY 46, WPHY 52, WPH 60, WPHY 65 & WPHY 70

Type:
Butt Weld (BW)
Dimension:
ANSI B16.9, ANSI B16.28, MSS-SP-43 Type A, MSS-SP-43 Type B, JIS B2312, JIS B2313
Dimensions Buttweld Barrel Nipple
S.40 Stainless Steel Barrel Nipple
Dimensions: Unit:mm
SIZE
1/8"
1/4"
3/8"
1/2"
3/4"
1"
S
1.7
2.0
2.0
2.5
2.5
3.2
L
40.0
40.0
40.0
60.0
60.0
60.0
SIZE
1-1/4"
1-1/2"
2"
2-1/2"
3"
4"
S
3.2
3.2
3.6
3.6
4.0
4.5
L
80.0
80.0
100.0
100.0
120.0
120.0
Marking and Packing
Products are packaged to ensure that there is no damage during transit. In case of exports, standard export packaging is done in wooden cases. All elbow fittings are marked with Grade, Lot No, Size, Degree and our trade mark. On special requests we can also, make custom marking on our products.
Quality Assurance
At JF Engineering Products LLP all fittings and flanges are subject to strict inspection at each stage of the production process, from starting material purchasing to product dispatch. They are visually examined for conformity to ASTM, ASME, MSS, DIN, EN, and JIS codes and standards. Upon request, official certified Inspection Agencies can be called in to witness the material reports, dimensions and quality conformity of products.
Test Certificates
Manufacturer Test Certificate as per EN 10204 / 3.1B, Raw Materials Certificate, 100% Radiography Test Report, Third Party Inspection Report
Shipping Policy
Delivery time and delivery dates are based on the "type and quantity" of steel ordered. Our sales team will provide a delivery schedule when quoting to you. On rare occasions the delivery schedule may change so please check with our sales department when placing any orders.
Orders will be sent out within 2-3 business days, and may take up to 5-10 business days in transit. If ASME B16.9 Barrel Nipple is out of stock, orders may take up to 2-4 weeks to ship. JF Engineering Products LLP will notify buyer if this situation occurs..
Uses & Application
JF Engineering Products LLP take immensure pleasure in introducing itself as one of the leading Manufacturer & Exporter of high quality ASME B16.9 Butt welding Barrel Nipple to meet the customer ultimate requirements in the fields of:
Chemical
Oil Mills
Petrochemical
Mining
Refineries
Construction
Fertilizers
Shipbuilding
Power Plant
Steel Plant
Nuclear Power
Offshore
Oil & Gas
Defence
Paper
Ports
Breweries
Railway
Cement
Engineering Co.
Sugar &
Government Org. etc.