JF Engineering Products LLP manufacturer & exporter of Flanges availbale in various forms and size, standards like ASME B16.5 flanges, ASME B16.47 Flanges and ASME B16.36 flanges.These all standards availble in all type of flanges like Weld Neck Flanges, Blind Flanges, Spectacle Blind flanges, Slip on flanges, Orifice flanges and Threaded Flanges etc.

We have specialization to manufacture customized Flange per customers' specifications, we welcome small quantity order.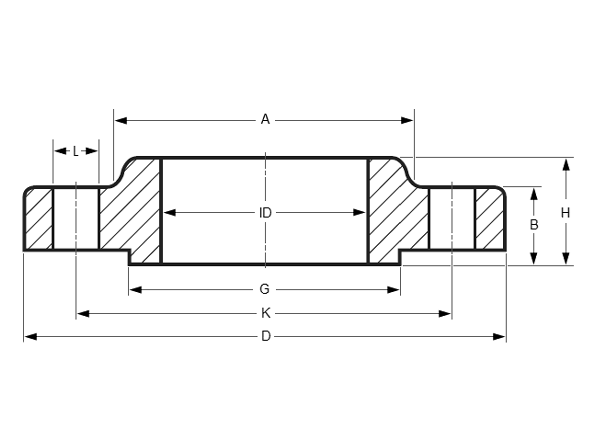 Get Quote's
Get Quote's
Slip-on pipe flange usually slips over the pipe. Slip-on pipe flanges are typically made with an inside diameter of the pipe flange slightly larger than the outside diameter of the pipe. This allows the slip-on flange to slip over the pipe. Slip-on pipe flanges are welded (usually both inside and outside) to provide strength and prevent leakage.

Slip-on pipe flanges can sometimes also have a boss/ring or hub, and can be made with a bore to suit either pipe or tube. Ring pipe flanges and hub pipe flanges are both considered slip-on pipe flanges because they both slip over the pipe.
Dimension -
ASME B16.5 Slip On Flange
NPS 14 - I.D. 359.1
CL
150
300
600
900
1500
2500
DIA
A
400
425
432
451
...
...
DIA
D
535
585
605
640
...
...
THK
B
33.4
52.4
69.9
85.8
...
...
35
54
76.3
92.2
...
...
DIA
G
412.8
412.8
412.8
412.8
...
...
DIA
K
476.3
514.4
527
558.8
...
...
H
56
75
94
130
...
...
57.6
76.6
100.4
136.4
...
...
NO.
L
12
20
20
20
...
...
DIA
L
31.8
31.8
38.1
41.3
...
...
Stud Bolts Diameter x Length
DIA
(in)
1
1⅛
1⅜
1½
...
...
Len
mm
135
180
235
275
...
...
Notes:
Dimensions are in millimeters unless otherwise indicated.
The length of the Stud Bolt does not include the height of the chamfers (points).
Marking and Packing
Products are packaged to ensure that there is no damage during transit. In case of exports, standard export packaging is done in wooden cases. All flanges are marked with Grade, Lot No, Size, Degree and our trade mark. On special requests we can also, make custom marking on our products.
Quality Assurance
At JF Engineering Products LLP, all fittings and flanges are subject to strict inspection at each stage of the production process, from starting material purchasing to product dispatch. They are visually examined for conformity to ASTM, ASME, MSS, DIN, EN, and JIS codes and standards. Upon request, official certified Inspection Agencies can be called in to witness the material reports, dimensions and quality conformity of products.
Test Certificates
Manufacturer Test Certificate as per EN 10204 / 3.1B, Raw Materials Certificate, 100% Radiography Test Report, Third Party Inspection Report
Shipping Policy
Delivery time and delivery dates are based on the "type and quantity" of steel ordered. Our sales team will provide a delivery schedule when quoting to you. On rare occasions the delivery schedule may change so please check with our sales department when placing any orders.
Orders will be sent out within 2-3 business days, and may take up to 5-10 business days in transit. If Flange is out of stock, orders may take up to 2-4 weeks to ship. JF Engineering Products LLP will notify buyer if this situation occurs..
Uses & Application
JF Engineering Products LLP take immensure pleasure in introducing itself as one of the leading Manufacturer & Exporter of high quality ASME B16.5 Slip On Flange to meet the customer ultimate requirements in the fields of:
Chemical
Oil Mills
Petrochemical
Mining
Refineries
Construction
Fertilizers
Shipbuilding
Power Plant
Steel Plant
Nuclear Power
Offshore
Oil & Gas
Defence
Paper
Ports
Breweries
Railway
Cement
Engineering Co.
Sugar &
Government Org. etc.