JF Engineering Products LLP manufacturer & exporter of Olets availbale in various forms and size, products like Sockolet, Weldolet, Elbolet, Latrolet, Threaded Elbolet etc. ASTM A105 Olets Pipe Fittings standard covers pressure-temperature ratings, materials, dimensions, tolerances,marking, testing, and methods of designating openings for fittings. In order to fulfill the changing demands of our clients, we are offering a quality range of Outlets. We source these products from reliable vendors of the market.

The Stainless Steel Outlets offered by us are widely used in construction industry for various purposes. Our products are highly appreciated in the market for their features like accurate dimensions, high durability and sturdy construction. Moreover, clients can avail these products from us at industry-leading prices.

We have specialization to manufacture customized Olets per customers' specifications, we welcome small quantity order.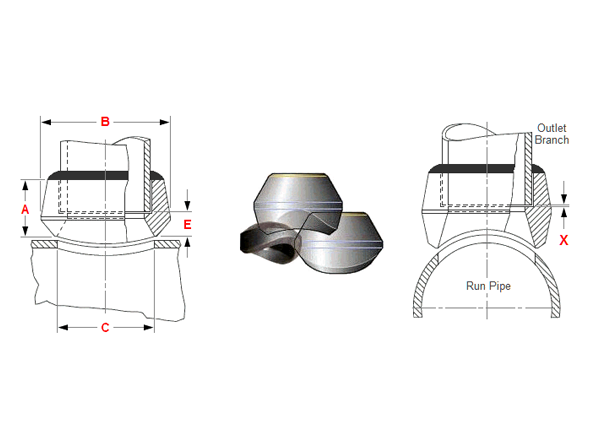 Get Quote's
Get Quote's
Sockolet
Owing to our rich industry experience, we have been successful in catering to the requirements of our esteemed patrons by offering Sockolets and Stainless Steel Sockolet. The offered products are made using premium-grade raw material in various sizes at the vendors' end. Moreover, quality inspectors stringently examine these products on certain industry laid parameters, before the final dispatch. Customers can avail these products from us at competitive prices within the stipulated time-frame.
Dimension -
Size on Size Sockolets® - MSS SP97
Class 3000
NPS

A

B

C

D

E

1/2
1
25.4
1.3/8
34.92
15/16
23.81
0.622
15.80
17/32
13.49
3/4
1.1/16
26.98
1.5/8
41.27
1.3/16
30.16
0.824
20.93
15/32
11.90
1
1.5/16
33.33
2
50.8
1.7/16
36.51
1.049
26.64
23/32
18.25
1¼
1.5/16
33.33
2.3/8
60.32
1.3/4
44.45
1.380
35.05
9/16
14.28
1½
1.3/8
34.92
2.7/8
73.02
2
50.8
1.610
40.89
21/32
16.66
2
1½
38.1
3½
88.9
2.9/16
65.08
2.067
52.50
15/16
23.81
2½
1.9/16
39.68
4.1/16
103.18
3
76.2
2.469
62.71
3/4
19.05
3
1.3/4
44.45
4.13/16
122.23
3.11/16
93.66
3.068
77.93
15/16
23.81
3½
1.11/16
42.86
5.3/8
136.52
4.7/16
112.71
3.548
90.12
11/16
17.46
4
1.7/8
47.62
6.1/16
153.98
4.3/4
120.65
4.026
102.26
1.1/16
26.98
5
2.7/16
61.91
7¼
184.15
5¼
133.35
5.047
128.19
1
25.4
6
2.11/16
68.26
8.11/16
220.66
6.1/16
153.98
6.065
154.05
1.3/16
30.16

X

= Min. 1/16 (1.6 mm)
General notes:
Dimensions: Top Row in Inches / Bottom Row in millimeters.
Bottoming Clearance - X - The purpose for the bottoming clearance in a Socket Weld is usually to reduce the residual stress at the root of the weld that could occur during solidification of the weld metal, and to allow for differential expansion of the mating elements.
Socket dimensions are in accordance with ASME B16.11. Design per MSS SP-97.
Source comes from Bonney Forge (except the sizes in millimeters).
Sockolet® is a registered name. Another often used name is Socket Weld Outlet.
Marking and Packing
Products are packaged to ensure that there is no damage during transit. In case of exports, standard export packaging is done in wooden cases. All olets are marked with Grade, Lot No, Size, Degree and our trade mark. On special requests we can also, make custom marking on our products.
Quality Assurance
At JF Engineering Products LLP, all fittings and olets are subject to strict inspection at each stage of the production process, from starting material purchasing to product dispatch. They are visually examined for conformity to ASTM, ASME, MSS, DIN, EN, and JIS codes and standards. Upon request, official certified Inspection Agencies can be called in to witness the material reports, dimensions and quality conformity of products.
Test Certificates
Manufacturer Test Certificate as per EN 10204 / 3.1B, Raw Materials Certificate, 100% Radiography Test Report, Third Party Inspection Report
Shipping Policy
Delivery time and delivery dates are based on the "type and quantity" of steel ordered. Our sales team will provide a delivery schedule when quoting to you. On rare occasions the delivery schedule may change so please check with our sales department when placing any orders.
Orders will be sent out within 2-3 business days, and may take up to 5-10 business days in transit. If Olets is out of stock, orders may take up to 2-4 weeks to ship. JF Engineering Products LLP will notify buyer if this situation occurs..
Uses & Application
JF Engineering Products LLP take immensure pleasure in introducing itself as one of the leading Manufacturer & Exporter of high quality Olets to meet the customer ultimate requirements in the fields of:
Chemical
Oil Mills
Petrochemical
Mining
Refineries
Construction
Fertilizers
Shipbuilding
Power Plant
Steel Plant
Nuclear Power
Offshore
Oil & Gas
Defence
Paper
Ports
Breweries
Railway
Cement
Engineering Co.
Sugar &
Government Org. etc.